New high performance power management ICs and power modules, including the industry's only 6A automotive buck-boost converter
element14 is now supplying the latest Analog Devices (ADI) power products, including the industry's only 6A automotive buck-boost converter, from stock. These new high performance power management ICs and converters meet stringent power requirements and feature leading-edge design and packaging technologies.
Offering designers unmatched power densities, ultralow noise technology and superior reliability, these new power devices ensure that systems can operate at optimal efficiency while reducing cost of ownership.
The ADI power range is backed by a complete design tool suite and customizable power interconnect solutions from start to finish. ADI's user-friendly power management solutions help speed up time-to-market while providing exceptional performance.
The latest ADI power products now stocked by element14 include:
MAX25239/MAX25240small footprint automotive 2V to 36V, 6A buck-boost converters are the industry's only 6A automotive buck-boost with integrated H-bridge switches. They provide a fixed-output regulation voltage and an externally adjustable output voltage from 3V to 20V with an input voltage above, below, or equal to the output regulation voltage. Applications include ADAS ECU, body electronics, infotainment systems, point-of-load power supplies and start-stop systems.
MAX25240 evaluation (EV) kit– This provides a fully assembled and tested application circuit that simplifies the evaluation of the MAX25240 400MkHz, 36V buck-boost converter. The standard EV kit comes with the MAX25240AFFF/VY+ installed (11.5V, 400kHz) and can also be used to evaluate other MAX25240 variants. Various test points and jumpers are included for evaluation, and all installed components are rated for the automotive temperature range.
LT8355-1 60VIN/120VOUTdual-channel DC/DC controller is designed to drive two strings of high-current LEDs. The fixed-frequency, current-mode architecture provides stable operation over a wide range of supply and output voltages, making it possible for the converters to operate as constant-voltage sources. With features like exponential PWM and scalable dimming, customers can achieve precise control over LED brightness levels.  The LT8355-1 is designed for high- voltage LED applications such as automotive head lamps/running lamps and accurate current limited voltage regulators.
DC3230Afeaturing the LTM4652, is a high efficiency, bidirectional dual-phase μModule® regulator configured as a single 32A, –5V output device. Available in a thermally enhanced 144-lead (16mm × 16mm × 4.92mm) BGA package, the LTM4652's temperature sensing options are included via onboard circuit.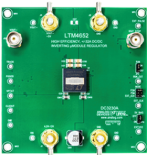 The LT7200Squad-channel, high efficiency monolithic synchronous buck regulator is capable of sinking/sourcing 5A to the load per channel. Its multichannel flexibility is ideal for powering complex systems with its compact layout. With an operating voltage range of 9V to 18V, it is suitable for various supply applications. It uses second-generation silent switcher technology with integrated bypass capacitors to deliver a highly efficient solution at high frequencies with excellent EMI performance. The LT7200S is suitable for distributed power systems, server power and point of load supply for ASIC, FPGA, etc.
Analog Devices is an American multinational semiconductor company specialising in the design and manufacture of analogue data conversion, signal processing, and power management technology solutions that help drive advancements in digitized factories, mobility and digital healthcare, combat climate change, and reliably connect humans and the world.
The new high performance Analog Devices power management ICs and power modules are now in stock at element14 in APAC.