A range of products protecting electronics and workers.
Connectors used for ESD protection

Press studs (latches) and punching tools

ESD protective components

Ground wires
Boxes, sockets and grounding/earthing points
Wristbands
Table mats

ESD workstation kits

ESD protection kit
Portable ESD kits
Items designed to prevent electrostatic discharge are among the most basic accessories in service workshops and laboratories in the electronics industry. ESD (electrostatic discharge) protection allows to avoid permanent circuit damage. At TME, we have a wide range of such products – those are items from well-known companies specialising in the production of equipment for electronic engineers, service technicians and constructors. The manufacturers whose products we offer include ANTISTAT, BERNSTEIN, COBA EUROPE, DESCO EUROPE, ELME, ENGINEER, EUROSTAT GROUP and STATICTEC.
Connectors used for ESD protection
A few types of connectors are used in ESD protection systems. These are connectors offering a relatively large contact area, which ensures good current capability of the connection. The grounding (or earthing) points are most often equipped with banana sockets or press studs (6mm and 10mm). For PCB connection, the so-called crocodile clips are usually used. Their advantage is versatility: they can be clamped both on the PCB pad as well as on the cable very quickly. In the case of connections made with elements of clothing, mats and bands, the most popular solution are latches.
Typical connectors of ESD protection systems
Press studs (latches) and punching tools
Puncher and a crimper for self-assembly of press studs.
Metal latches (most often with a diameter of 10mm), i.e. press studs, are a convenient method of connecting fabrics and similar materials to a grounding installation. They guarantee strong, mechanically resistant connection with low electrical resistance. TME's offer includes latches which you can fix on your own on elements of clothing or equipment (e.g. mats) First of all, those are universal press studs and dedicated manual or table/lever punching tools. Apart from that, TME distributes screwed press studs (they can be used with ring cable lugs) and studs in clinch versions. We offer male and female double press studs, facilitating the connection of several safety elements. Alternatively, the attachment to the grounding installation can be made using an ESD adapter, which is a combination of a press stud with a crimping sleeve mounted directly on the cable, or using a connection adapter with a banana plug socket.
ESD protective components
Effective ESD protection requires the use of several products to protect the employee, the electronic equipment which they operate, and the workstation. When selecting products, one should pay attention to the connectors used in them and the method of connection with the grounding system.
Ground wires
The TME catalogue includes both straight and spiral cables (allowing free movement without tangling the cable). They are equipped with press studs or banana connectors (which can be easily connected to a crocodile clip – most often included in the set). The contacts are well insulated, which minimizes the risk of accidental contact with live elements. Moreover, TME offers sockets mounted on long cables, which facilitate the connection of ESD equipment in locations that are distant from the grounding/earthing point.
Coiled/spring cable used to connect the band.
Boxes, sockets and grounding/earthing points

The grounding box from EUROSTAT contains all common types of connectors.
In most cases, ESD protective conductors are connected to the protective conductor of the electrical wiring. It is a convenient and cheap solution that allows you to use the existing infrastructure. Of course, correct installation, i.e. separation of the PE conductor with the use of an RCD and connection to the earth electrode are required. The grounding point should be permanently fixed at the workstation to prevent accidental disconnection. For this reason, sockets attached (with screws) to the desk top are used. Their connectors are equipped with a cable outlet (usually terminated with a ring/eyelet connector).
If many different pieces of equipment are used, a universal grounding box will be the best choice. It features all popular ESD system connectors
An alternative solution is the so called "grounding plug". It is an element equipped with plastic pins whose shape is similar to the contacts of a typical mains plug. They are plugged directly into the socket. The front panel ESD connectors are connected to the PE conductor of the electrical installation. TME's offer includes a number of products of this type, equipped with various types of sockets (banana sockets, female and male press studs, screw clamps).
All grounding/earthing points are equipped with 1MΩ resistors which prevent sudden discharge and electric shock in the event of contact with a live circuit.
Wristbands
Wristbands are a basic piece of ESD equipment. They ensure good contact with the body (e.g. thanks to the use of nylon with conductive fibre) – wearing and connecting them is the first step that should be performed before starting work with electric circuits. TME's offer includes bands equipped with press studs and cables with a length of 1.5m to 2.4m (selected models) – made of fabric, plastic as well as metal (with a structure similar to a watch bracelet). ESD wristbands are also available in disposable and anti-allergic variants.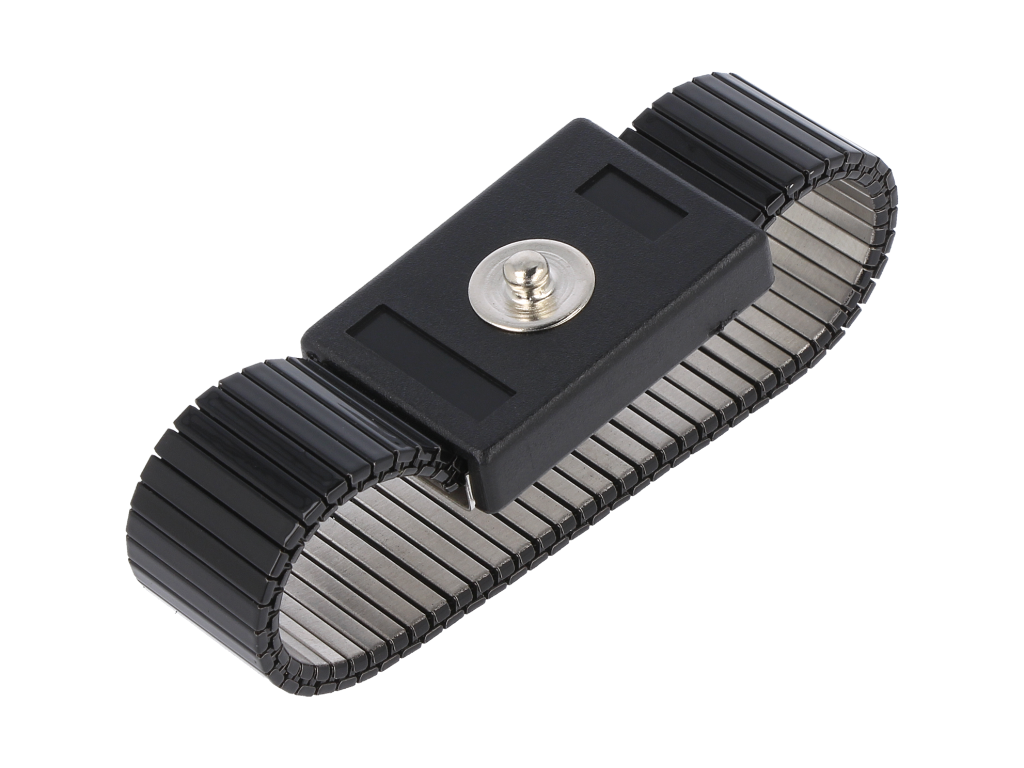 The band in the form of a metal bracelet is characterised by low resistance .
Table mats

ESD mat that protects the tabletop against temperatures up to 440°C.
Table mats are used to prevent the build-up of electrostatic charges on individual items of equipment (tools, accessories, casings), as well as items of clothing (sleeves). In addition, selected models, thanks to their resistance, protect the workplace against the harmful effects of most chemical compounds, oils and temperatures up to 440°C (e.g. spatters of hot solder). TME's offer includes a wide selection of mats of various thicknesses (from 1.5mm to 3.2mm), colours and sizes (e.g. 40cm by 60cm, as well as 1.2m by 10m), as well as rolls of antistatic material (24 running metres) designed to make custom-sized ESD pads.
ESD workstation kits
When looking for equipment for a new laboratory or service workshop, it is worth paying attention to our offer of complete workplace kits. Thanks to them, you can easily equip your workplace with the full and necessary ESD protection.
ESD protection kits
The ESD kits in the TME catalogue consist of the basic components: table mats, wristbands and connection cables. Selected sets also include grounding points (mains plugs), thanks to which the workstation ESD protection equipment is limited to a single purchase.
A table set containing all necessary ESD protection components.
Portable ESD kit
In the case of minor repairs in machine parks as well as service technicians and field technicians, portable ESD kits will be an excellent choice. Thanks to the mats made of flexible materials, they can be folded and stored in a tool bag. As in the case of the products described above, the set includes cables and wristbands. Selected items are equipped with hook-and-loop strap casings, which additionally protect the elements of equipment against mechanical damage.
Text prepared by Transfer Multisort Elektronik Sp. z o.o.
The original source of text:tme.eu