Source : Mouser Electronics
Authenticating Andrew Jackson
What is real? What is fake? Digital economies are an integral part of our digital age, and perhaps more than ever, we need to be able to recognize counterfeits. Therefore, we need to be able to authenticate what has real value. For example, one day, after having lunch, an acquaintance walked up to the restaurant counter to pay, handing the cashier a $20 bill (Figure 1). The cashier looked at it and, after quickly testing it, informed him that it was a fake. Someone had slipped him a counterfeit $20 bill in another exchange—and they were now $20 richer, at my acquaintance's expense.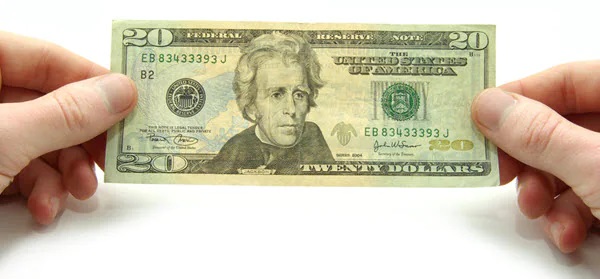 Figure 1: A United States Andrew Jackson $20 bill. (Source: Pakhnyushchy/Shutterstock.com)
The last thing anyone wants is to be taken advantage of. Governments go to great efforts to ensure that their hard currencies have sophisticated technology to identify the difference between what's real and fake. These techniques enable us to authenticate what has real value.
Who Can You Trust?
The same applies to the world of electronic systems and components. No one wants to be fooled and use counterfeit products. In the automotive realm, this is of particular concern. Unscrupulous parties may target automotive systems with replaceable or limited-life sensors, peripherals, modules, or consumables. Counterfeit replacements may introduce passenger and vehicle safety concerns while also reducing system efficacy and efficiency.
Maxim Integrated, now part of Analog Devices, Inc. (ADI), stands the forefront of security and authentication. ADI operates at the center of the modern digital economy, converting real-world phenomena into actionable insight with its comprehensive suite of solutions. The company built a solid reputation as an expert at helping automotive electronic design engineers implement hardware-based physical security to achieve low-cost counterfeit protection, peripheral device authentication, and secure feature setting.
Authenticate Automotive Components
Autonomous vehicles and connected cars are fast becoming a reality on the roadways around the globe. As decision-making increasingly moves from the driver to the vehicle and its intelligent electronic systems, the demand for automotive security has become critical. Automotive security has expanded to include vehicle authentication, counterfeit prevention of advanced driver assistance system (ADAS) peripherals, and securing data communication to the cloud. With the imminent deployment of mass-produced battery-powered and autonomous vehicles, the imperative is upon vehicle manufacturers to consider and then design protections that mitigate against outside attacks and hacking, malware, and improper external manipulation (Figure 2).
Figure 2: Shot of a futuristic self-driving van moving on a public highway in a modern city. (Source: Gorodenkoff/Shutterstock.com)
Embedded electronic protection enabled by security ICs is helping to secure automotive technology for the vehicles of tomorrow. These security ICs require Automotive Electronics Council (AEC)-Q100 Grade 1-qualified secure components to enhance safety and preserve optimum system functionality. Analog Devices is the right partner to ensure vehicle safety and reliability by authenticating automotive parts.
Secure Authenticators
Modern cryptographic methods secure information and communications using a set of rules. Cryptography makes it possible for only those who are appropriately authorized to access and process the data. Secure authenticators are security ICs designed for discerning proper authorization and keeping unauthorized parties out.
DeepCover® Automotive 1-Wire Authenticator
As one example, consider the DS28E40 DeepCover® Automotive 1-Wire Authenticator. This product is a secure authenticator that provides a core set of cryptographic tools derived from integrated asymmetric (elliptic-curve cryptography (ECC)-P256) and symmetric (secure hash algorithm (SHA)-256) security functions. Asymmetric encryption algorithms use a combination of public and private keys for generating and verifying digital signatures of the data. Symmetric encryption algorithms use a single private key for generating and verifying HMAC hashes of data.
Besides the security services provided, hardware-implemented cryptographic engines integrate a Federal Information Processing Standards (FIPS)/National Institute of Standards and Technology (NIST) True Random Number Generator (TRNG). This feature generates random numbers to create cryptographic keys to protect data and operations. In addition, it provides 6Kb of One-Time Programmable (OTP) memory for user data, keys and certificates, one configurable General-Purpose Input/Output (GPIO), and a unique 64-bit ROM identification number (ROM ID) (Figure 3).
Figure 3: Block diagram of the Maxim Integrated DS28E40 DeepCover® Automotive 1-Wire Authenticator. (Source: Maxim Integrated)
Conclusion
Don't fall victim to those who create havoc with counterfeit parts. Remember, we live in a digital age. Authentication is therefore essential in order to determine what is valuable. Automotive manufacturers are now able to establish secure authentication in far more ways than ever before. Analog Devices has solutions that ensure vehicle safety and reliability by authenticating automotive components and cloaking their sensitive data under multiple layers of advanced security. Although these solutions aren't a license to print money, it is the best way I know to keep it rolling in. If you should decide not to take my advice, you might find yourself out many Andrew Jacksons because you didn't securely authenticate.
To learn more, visit www.mouser.com