By Sascha Gres, Business Development Manager, Harwin
The value of home-based medical monitoring and treatment is steadily growing, driven by the aging population, rising numbers of people suffering from chronic health conditions (including diabetes and asthma), and a clear need to alleviate the pressures on clinical staff. According to studies conducted by Grand View Research, the global home healthcare market will experience a 7.93% compound annual growth rate (CAGR) over the coming years, reaching an annual worth of approximately $650 billion by 2030. There are now many OEMs bringing out products to serve this market.
Motivations behind home healthcare
Home healthcare can play a vital role in helping relieve pressure on already-stretched medical services by enabling some of the work to be carried out by the patient at home. There are also other significant benefits. More accurate insight into a patient's condition leads to better-informed decisions on how to proceed. By accessing data collected over a long period, rather than just a few clinic-based measurements taken in a limited time, specialists will gain a comprehensive understanding of the situation. This can facilitate a more accurate diagnosis. It will also mean they can detect any changes or deterioration quickly instead of waiting until the next check-up. As a result, potential risks can be spotted earlier. Furthermore, it makes it easier to keep vulnerable patients away from situations where they could contract viruses that might deteriorate their health. Receiving care at home is also more convenient for patients as it eliminates the need to travel long distances for tests or treatment.
Types of home health hardware
Depending on the condition being monitored or treated, the nature of the equipment involved can vary considerably. For example, patients suffering from kidney disease can use home-based dialysis units. These are large and run off a mains supply. Treatment for conditions like sleep apnea can also rely on large mains-powered equipment to regulate the patient's respiratory rate.
A person with hypertension will require the use of a blood pressure monitor. Generally, these will be portable units that run on batteries. Those with diabetes will have a blood glucose monitor, taking periodic measurements every day. These checks can be done with a wearable or a handheld sensor. People with arrhythmias can have their heart rate continuously monitored via a wearable ECG device. The acquired data can then be transmitted (across an Internet connection) to the relevant specialist for subsequent in-depth analysis.
Vital characteristics for equipment used in home health
The equipment used to monitor or treat patients at home will differ from the technology found in clinical environments. At a clinic, the equipment will be operated by highly-trained staff. At home, untrained people have to work the equipment with minimal guidance. Therefore, it must be easy to use, with no complexities that could lead to mistakes.
So that portable equipment is easy to carry, it must be lightweight and compact. Prolonged operation is also essential. Any issues with reliability could potentially affect monitoring accuracy or treatment effectiveness. If poor reliability leads to a product recall, it could permanently damage the manufacturer's brand image.
Applying these attributes to component selection
The equipment's constituent components will need to reflect the attributes outlined above. This is particularly critical when specifying interconnector technology as it will transport vital data.
The integration of compact connectors will be a must due to the space constraints of the equipment designs. Despite having small dimensions, a considerable number of contacts may be necessary, so high contact densities will probably be required. To minimize the space used, connectors that include both signal and power contacts will be advantageous.
To enhance electrical performance values, connectors constructed from materials with low contact resistance values are preferable. Contact pins packed closely together and carrying high currents require connector construction with strong insulation properties (to safeguard against flashover situations).
Acquiring inaccurate data impairs the medical specialist's ability to manage the patient's health condition. Twisted pair cabling will mitigate crosstalk so that high levels of signal integrity are always achieved. To combat electromagnetic interference (EMI), connectors featuring backshell shielding are ideal.
To achieve an extended operational lifespan, even when equipment is mistreated or dropped, high degrees of reliability will be expected. The connectors should have superior locking mechanisms, as they contribute to more secure cable retention.
Preventing liquid ingress will usually be mandated for connectors and cabling incorporated into the equipment used in surgery theatres and hospital wards. However, it is an unlikely requirement for remote monitoring or treatment. Moreover, for home health hardware, the connectors and cabling will usually be inside the equipment, so users shouldn't need to un-mate/re-mate anything.
Optimized home health equipment interconnects
Through its HRi high-reliability connector portfolio, Harwin can address emerging opportunities within the home health sector. Highly suited to space-limited deployments, the 0.5mm pitch Archer .5 and 0.8mm pitch Archer .8 surface-mount connectors present medical OEMs with high contact density solutions – featuring pin counts of up to 100 and 120, respectively. They exhibit elevated signal integrity characteristics even when carrying high-speed data signals (-35dB up to 12GHz for Archer .5 and -20dB up to 20GHz for Archer .8)
Figure 1: Harwin's Archer .5 and Archer .8 connectors for use in space-limited medical designs  
Harwin's Gecko connectors are robust, lightweight, and highly compact and have already seen substantial uptake in portable medical instrumentation. They have extremely durable Beryllium Copper contact pins, which deliver assured electrical performance due to their low contact resistance. The innovative 4-finger contact design means that interconnect integrity is continuously maintained. At least one contact pin surface touches the plug surface at all times, even during exposure to shocks of up to 100G. The sturdy locking mechanisms prevent connectors/cabling from being pulled out by external forces. Gecko-MT connectors combine data transmission capabilities with 10A-rated power contacts.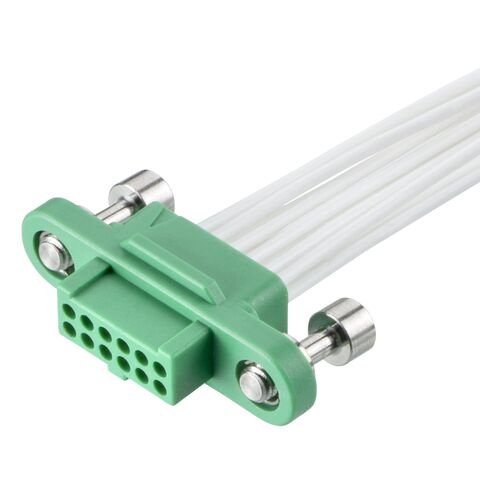 Figure 2: An example of a Harwin Gecko-SL connector and the  accompanying cabling
Various off-the-shelf cable products are available for these connectors, covering different lengths and configurations Flexible printed circuit (FPC) assemblies are also available and custom cabling can be provided, even for small order volumes.
Conventional connectors, such as the ones described above, are too large for use in wearable monitoring equipment. Here, Harwin's Spring Contacts offer a more streamlined alternative. These low-profile components provide reliable interconnection while taking up only minimal space. They come in stacking heights ranging from 1.23mm to 7.25mm, with horizontal or vertical orientation. Positive stops prevent over-stressing from occurring. These contacts support fully automated assembly processes to keep the associated OEM production costs down. Their physical tolerances mean that manufacturing variations may be compensated for.
The changing face of healthcare
There is a shift from solely clinical-based healthcare in favour of a strategy where most measurements, and in some cases treatment, take place in the comfort and convenience of people's homes. Whether via portable equipment or wearable monitoring devices, compact high-grade interconnect solutions that deliver reliable, high-performance operation are required. OEMs need to engage trusted suppliers, if they wish to create models with truly differentiating qualities. Moreover, the interconnection aspect should be a focus at the earliest possible stage in any development project.