Overview of fans from a trusted manufacturer
SUNON_2021
SUNON fans
DC fans
EC fans
AC fans
Fans accessories
Fewer and fewer electronic devices contain mechanical components – physical memory devices, such as CDs or hard drives, are slowly being eliminated, touch screens have been replacing buttons, and semiconductor circuits have been replacing potentiometers. However, some of the components are irreplaceable – not only in terms of the human-machine interface.
Certainly, fans are such "immortal" items. They ensure thermoregulation of power and control circuits, as well as of CPUs.They are the indispensable components of personal computers and a number of industrial devices. Their efficiency and the fact that they support heat dissipation directly translate into the work and durability of processors, semiconductor components, amplifiers and entire circuits. Sadly, because of the nature of their function, as well as continuous work and exposure to various types of dirt and dust, the lifespan of those components is limited. Not only bearings, but also coils may wear out. Additionally, in many cases (especially in household equipment) fans are required to work silently, and, naturally, use the minimum possible amount of energy. All those factors make the modern fans more than just drive motors equipped with bladed impellers – they are now advanced structures developed for a narrow scope of application.
SUNON fans
As the manufacturing of fans that meet the requirements of modern industry and mobile electronics needs advanced laboratory facilities and precise production lines, manufacturers specialising in the field of compact fans have entered the global market. What we mean here are components with a diameter not larger than 200mm, designed for active cooling of electrical and electronic circuits. One of the leading, global brands that offer such solutions is SUNON. This Taiwanese manufacturer has been delivering sustainable, cutting-edge solutions for ventilation and thermoregulation for over 40 years now.
Below, you will find an overview of the range of SUNON products available from TME. This includes hundreds of products – axial fans and DC, AC and EC blowers, as well as accessories, miniature variants with a diameter ranging between ten and twenty millimetres, and products fitted with innovative magnetic bearings. Make sure you read the overview below and browse our catalogue for detailed information.
DC fans
DC fans are the most commonly used fans in electronic devices. This is mainly due to the access to the DC busbar and facilitated control over the operation of the cooling system. They feature from two to four leads. Apart from the power leads, some of the SUNON fans also have a FG output (the so-called "3rd wire" that is a signal output) that allows monitoring the rotational speed of an impeller. In other models, a circuit that enables controlling the speed of a fan with the use of the fourth lead that receives the PWM signal is included.
Types of bearings and the Vapo technology
In SUNON fans, three types of bearings are used. The first one is a standard,slide solution that is implemented in fans intended for working in a vertical position. Devices equipped with ball bearings can function in any position and they are more durable than other types. The third technology of impeller axis stabilisation is called Vapo and it is based on the phenomenon of magnetic levitation. Thanks to minimised friction, not only more durable and dust-resistant but also extremely quiet fans can be manufactured. It should be emphasised here that the Vapo technology has been patented by SUNON.
Axial fans
Axial fans are the most commonly used type of fans – this is why they are fitted for a wide range of voltages, and they are available in multiple formats. In our catalogue, we have models in sizes from 20mm to 140mm (side length). These are the components with the efficiency of up to 400m3/h (and more, depending on the model). All the products feature brushless motors, intended for work with the rated voltage of 5V, 12V, 24V or 24V DC – still, it needs to be remembered that many products offer some tolerance in terms of this parameter. The most energy-efficient fans provide the power of 180mW or power consumption of 0.02A. Rotational speed ranges from 1600 revolutions per minute (RPM) to 23000 revolutions per minute – whereas the noise level of the most silent models does not exceed 12dBA. It should be emphasised here that the products meet the requirements for the UL94V-0 flammability standard (they don't keep the flame and they are self-extinguishing) and they withstand the temperatures ranging from -10°C to 70°C.
Popular, 12V DC, 80mm high fan format.
Blower fans
Small SUNON blower fans with a 50mm impeller
Blower fans are very often used in devices in which space is limited, including compact devices. A well-known application for that solution are laptops, in which the impeller in the blower generates vacuum pressure, and as a result of that the air is drawn into the computer's housing from the outside, via properly spaced slots (and heat sinks). Many other cooling and ventilation systems are based on the same principle. The products designated as "blower fans" enable efficient thermoregulation and they don't require a slot size to be as big as the impeller diameter. The efficiency of the SUNON products in this category reaches 92m3/h and they are available in the variants fitted for the voltage ranging from 5V to 28V DC.
Miniature fans
The range of miniature SUNON fans deserves particular attention. These are the components in unusually compact sizes: with a diameter from 9mm to 17mm (30mm in blower fans). In most cases, they weigh less than 1g and they are powered with 3V DC. They can be found as axial and blower fans. They are fitted for achieving high rotational speeds: from 9000 to 17000 RPM, because they aim to provide a good and relatively high airflow (about up to 1m3/h). At the same time, they are distinguished by rather silent work – some axial variants produce the noise level of 6.8dBA. In the case of the most compact devices requiring cooling, the manufacturer prepared blower fans, whose thickness equals just 3mm. Miniature SUNON fans will be a perfect solution for mobile devices, even from the industrial scope of EoT – they are characterized by low nominal current (from 36mA to 97mA).
SUNON specialises in fans with the diameters that don't exceed 1cm.
EC fans
SUNON EC fans are adapted to a wide voltage range.
EC fans combine the advantages of brushless motors (BLDC) and the possibility of supplying power from the typical sources of power grid (from 90C to 265V AC). What is more, they are characterised by extremely low power consumption (maximum of 5.1W in the case of SUNON products) and durability. Their additional advantage that will be particularly important in the case of industrial applications and rough environmental conditions is water resistance: the presented EC fans are IP55-rated. They are made of durable and light material (thermoplastic resin) that has a good fire resistance (UL94V-0), just like most of the manufacturer's products.
AC fans
The fact that a fan can be powered directly from the power grid has a lot of advantages. Primarily, it simplifies the structure and makes it possible to use a standard-sized fan (e.g. 120x120mm) without the need to transform the voltage. In the TME's catalogue there are both AC axial fans and blower type fans. Most of them were constructed on the basis of durable ball bearings. Our offer includes both fans intended for voltages that are commonly used in Europe and Asia (about 230V AC), and adjusted to power grids in North America (up to 115V AC). Apart from the products in typical formats (80mm, 92mm, 120mm etc.) we also have fans with the diameter of 254mm thatreach the efficiency of 1444m3/h.
Fan with the diameter of 171mm, one of the most efficient SUNON products.
Fans accessories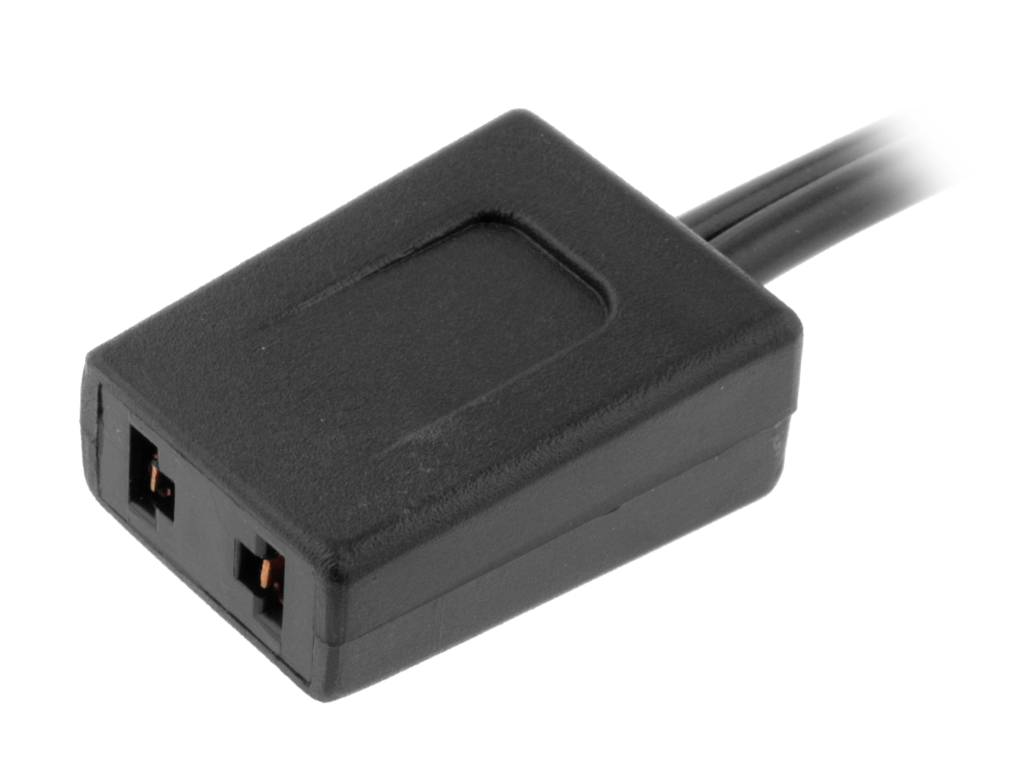 Power connector intended for AC fans (2.8×0.3mm).
Apart from fans, SUNON also offers a large range of accessories for installation. These include e.g. plastic or metal sheathing that is compatible with the slot spacing ranging from 60x60mm to 120x120mm and 172x150mm axial fans. The supplier offers power leads designed for AC fans as well. The latter ones are equipped with a standard contact pitch of 2.8×0.3mm and a plastic housing that guarantees simple and safe connection of devices.
Text prepared by Transfer Multisort Elektronik Sp. z o.o.
The original source of text:tme.eu