A range of DC power supplies with a long service life and a high standard of protection
DC power supplies are a part of the system in many applications: from machine parks, alarm systems, building automation, lighting, ICT systems to, more and more often, households . The most significant features of those components are high efficiency, stable voltage and reliability. These properties translate into actual savings and long lifespan of all powered devices.
Below, we present a group of products from AIMTEC – a well-known, global brand. It is a series of 15W to 120W AMED impulse power supplies. They are characterised by compact design and economic operation. Due to the high quality, good value for money and the use of a number of protective features, these devices will be an excellent choice for many applications, mainly industrial ones.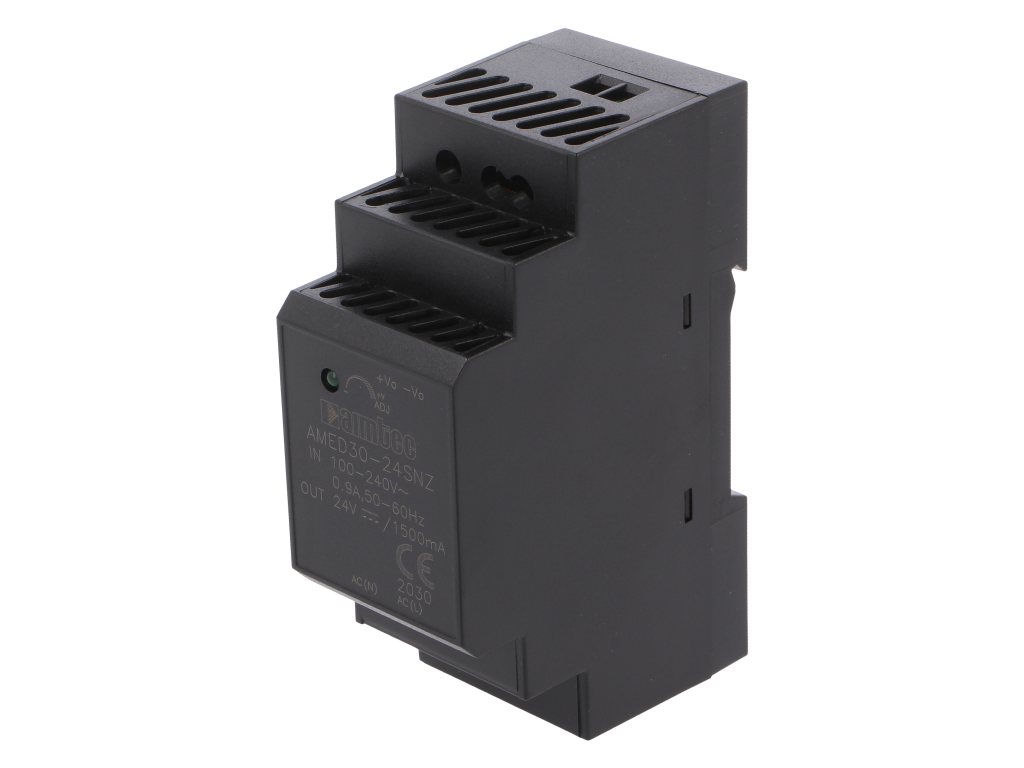 Power: from 15W to 36W
Power: 60W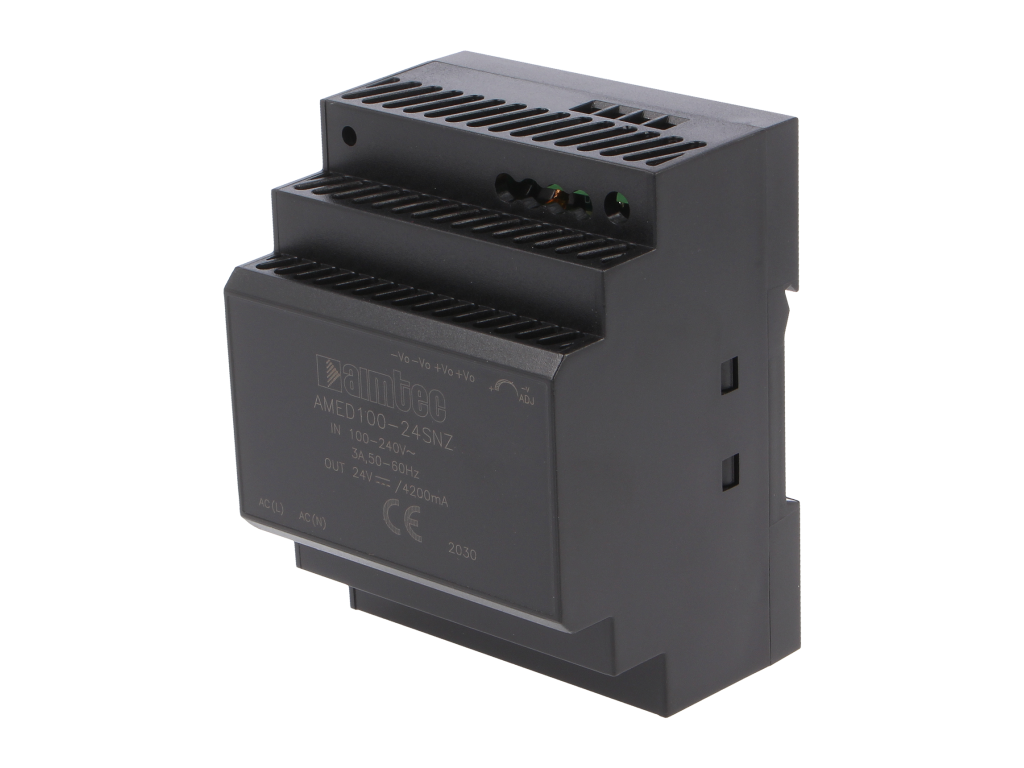 Power: 100W
Power: 75W and 120W
AMED power supplies format
AMED power supplies are adjusted to DIN (TH35) rail-mounting. They are available in two types of enclosures and several sizes. The AMED30, AMED60 and AMED100 series models are placed in a plastic enclosure (meeting the requirements of the UL 94V-0 fire safety standard). The front part of the device body will be visible when it is mounted inside the distribution board with covers (e.g. a standard installation switchboard) – part of the ventilation holes will also be on the outside. Depending on the model, these products have one of three widths: 35mm, 52mm or 70mm. The AMED75 (30mm wide) or AMED120 (35mm wide) series models have metal enclosures that help dissipate heat. Their perforated sides enable convective air flow. Those items are designed for industrial switchboards. All products are equipped with an LED that signals the correct operation of the device (Photo. 1b).
Output parameters
Power supplies from the AMED series that are available from TME have a single output with two pairs of screw terminals (Photo 1a): 2 x V- and 2 x V+. The terminals are adapted to cables with diameters from ca. 0.2mm2 (24 AWG) to ca. 3.3mm2 (12 AWG). The output voltage depends on the model (from 5V up to 48V DC) and can be adjusted by means of a suitable potentiometer available through the opening in the enclosure (Photo 1c). For safety reasons, one should use an insulated calibrator when setting the voltage. Setting ranges are presented in the table below for each rated voltage supported by a given series of products. The amplitude of output voltage fluctuations does not exceed 240mV (within the 20MHz band). According to the currently applicable standards, the output of the power supply is protected (OVP – over-voltage protection) in case of damage – in the event of a significant excess (approx. 20%) of the pre-set voltage, the power supply will be turned off. The maximum output current (specified in the table at the bottom of the page) for AMED products reaches from 750mA up to 10A. One should take into consideration the fact that those values pertain to the device operating in the environment with a temperature from -30°C to 45°C. Above that limit, the efficiency drops in a linear way, down to 50% at ca. 70°C (representing the maximum acceptable working temperature for most of the presented products).
Power supply parameters
AMED power supplies support input voltages (Photo. 1d) from 85V to 264V AC (only 120W models require a minimum of 90V), whereas the insulation voltage for these products amounts to 4kV. AIMTEC products can be therefore implemented in all countries, regardless of the local power grid type. The power supplies reach the efficiency from 82% to 91%. The electrical rating parameters are maintained even when the supplies operate at full load. In addition, AMED products are characterized by low battery consumption at no load (e.g. for the AMED60 series, 0.4W is the maximal value).
Photo 1. Comparison of the size, design and outputs in the AMED series.
The remaining product properties
AMED power supplies are known for their incredible reliability: their mean time between failures (MTBF) amounts to 300000h. Additionally, their circuits are equipped with a wide range of protections. Apart from overvoltage protection (OVP), they also offer automatic circuit breakers: over-current protection (OCP) and over-\temperature protection (OTP). In the event of triggering the output short-circuit protection (OSCP), the power supply disconnects the output and automatically tries to restart after 5 seconds. All those features reduce the costs of maintenance and use and also significantly improve the safety of machine operators, installers and other users of the powered electrical installation.
The AIMTEC products described here meet a range of international standards: interference emission according to EN55032, resistance to interference, electromagnetic radiation and inrush current according to EN61000. Furthermore, the AMED series was created in line with EN62368 and EN61558, which assess the norms of safety for power supplies approved for use in industrial applications (including in ICT) and households (building automation, lighting etc.).
Comparison of various AMED power supplies series
Below we present a comparative profile of all available AMED series products. The parameters are given for operation at an optimum ambient temperature of 25°C. The described products are available directly from our warehouses, so the delivery time is as short as possible. Make sure you read more about the products available from our catalogue.
Product overview
Text prepared by Transfer Multisort Elektronik Sp. z o.o.
The original source of text: tme.eu