Achieving the industry's smallest* size in a mass-produced surface mount package contributes to greater space savings in smartphones and other compact devices
ROHM has developed new silicon capacitors – the BTD1RVFL series. The devices are increasingly being adopted in smartphones and wearable devices. Silicon semiconductor processing technology cultivated over many years has enabled higher performance in a smaller size.
Smartphones and other devices with growing functionality require smaller components that support high-density mounting. Silicon capacitors using thin-film semiconductor technology can provide higher capacitance in a thinner form factor than existing multilayer ceramic capacitors (MLCCs). At the same time, stable temperature characteristics, along with excellent reliability, are accelerating their adoption in a variety of applications. In anticipation of the growth of the global market for silicon capacitors to 300 billion yen (about 2 billion US dollars) by 2030 (approximately 1.5 times higher than in 2022), ROHM has developed compact high-performance silicon capacitors by leveraging proprietary semiconductor processes.
ROHM's silicon capacitors manufactured using proprietary RASMID™ miniaturization technology allow processing in 1µm increments that eliminates chipping during external formation and improves dimensional tolerances within ±10µm. This small variation in product size enables mounting with a narrower distance between adjacent components. At the same time, the backside electrode used for bonding to the substrate has been expanded to the periphery of the package to improve mounting strength.
The first series in the lineup, the BTD1RVFL series (BTD1RVFL102 / BTD1RVFL471) consists of the industry's smallest 01005-size (0.1inch × 0.05inch) / 0402-size (0.4mm × 0.2mm) mass-produced surface mount silicon capacitors. The mounting area is reduced by approximately 55% over general 0201-size (0.2inch × 0.1inch) / 0603-size (0.6mm × 0.3mm) products to just 0.08mm2, contributing to greater application miniaturization. Moreover, a built-in TVS protection element ensures high ESD resistance that minimizes the number of person-hours required for surge countermeasures and other circuit design elements.
ROHM plans on developing a second series in 2024 featuring superior high-frequency characteristics ideal for high-speed, large-capacity communication equipment. ROHM is also developing products for servers and other industrial equipment to expand applicability further.
Product Lineup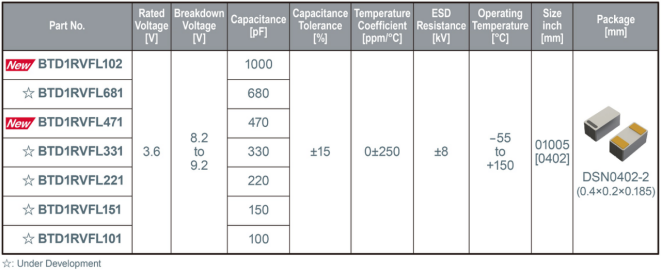 Application Examples
Smartphones, wearables, compact IoT devices, optical transceivers, etc.
Online Sales Information
Sales Launch Date: August 2023
Online Distributors: DigiKey and Mouser
Applicable Part Nos: BTD1RVFL102 (1000pF), BTD1RVFL471 (470pF)
Pricing: $8.0/unit (samples, excluding tax)
Terminology
RASMID™
Short for ROHM Advanced Smart Micro Device, a lineup of ultra-compact components that achieve unprecedented miniaturization and dimensional accuracy (within ±10µm) using ROHM's proprietary new construction methods that break away from convention.
RASMID™ is a trademark or registered trademark of ROHM Co., Ltd.
ESD (Electrostatic Discharge)
A surge that occurs when charged objects such as the human body and electronic equipment come into contact with each other. This type of surge can cause malfunction or destruction of circuits and equipment.